Jane – Side-Zip Ankle Boot
NOTE: Additional costs for wide/narrow fit.
Deposit: $800.00
Price as Shown: $.00
ShopRunner members enjoy Free 2-Day Shipping on made-to-order items once customization and production has been completed. Production of Made-to-Order items will commence once all details have been finalized.
Customize your own
Our side zipper ankle boot, known by some as a Chelsea boot, is our version of the perfect boot. The heel is not too high or too low. It sits comfortably above the ankle and looks cool with most any outfit. She is the perfect mix of attitude and chic.
This design allows you to choose from a variety of colors/materials. Work with us to create a one-of-a-kind boot.
Material/Design Options: leather, suede or canvas. Nearly limitless color/leather treatment options.
Sole Options: leather, combination of leather + rubber
Heel Height: approx. 2" / 50.8mm
Additional costs for wide/narrow fit.
There may be slight variations in the appearance of your Esquivel's due to the handmade process of cutting, sewing, polishing and finishing. This allows each product to uniquely age over time.
Enjoy complimentary standard shipping on all US orders.
Average fulfillment time for Made to Order collection is 6-8 weeks from confirmation of fit & color choice/options.
Other shipping conditions may apply for certain products and locations. Please review our shipping & return policy for details.
George Esquivel
Made to Order
Jane – Side-Zip Ankle Boot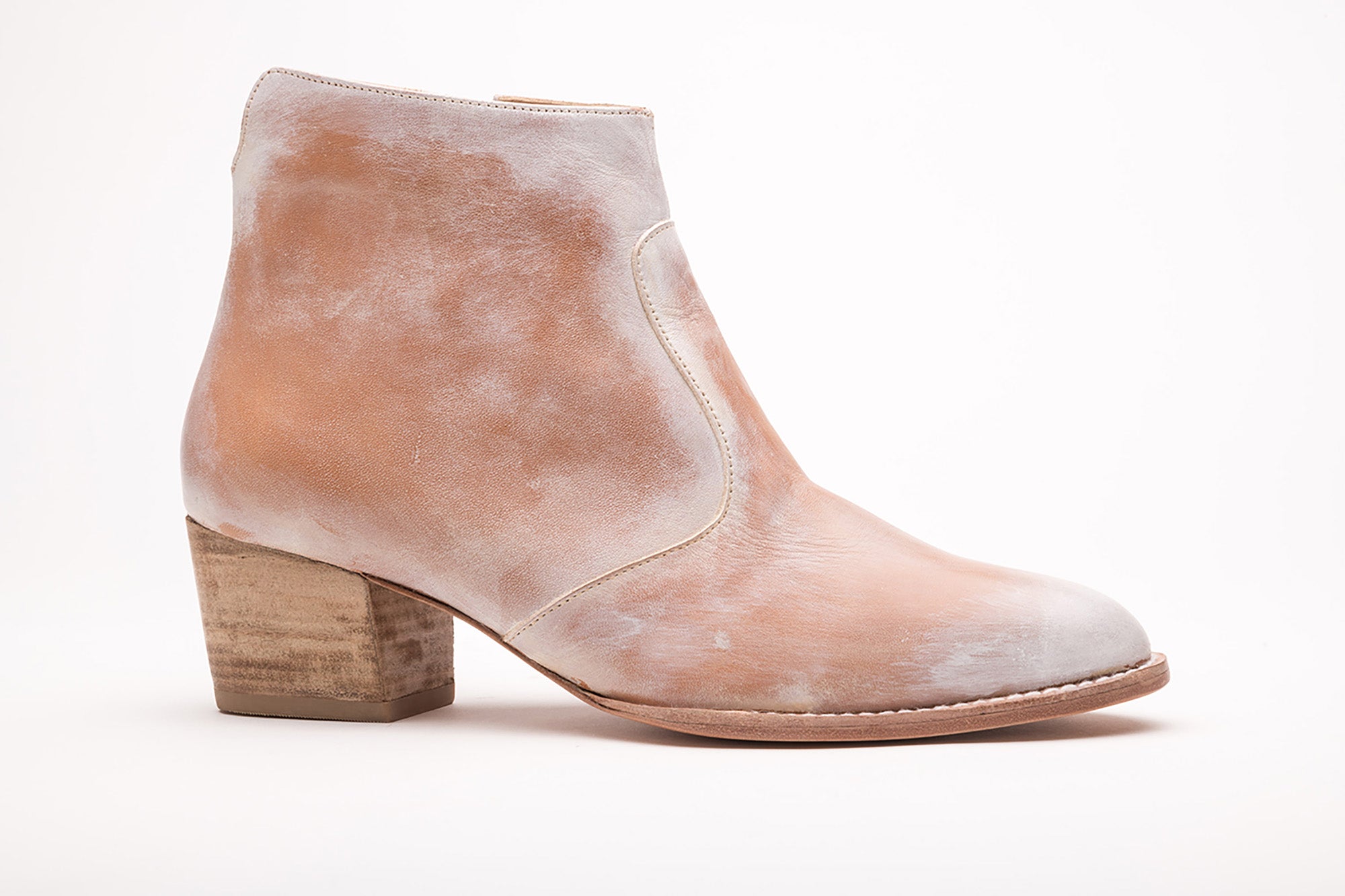 Made to Order
Make it your own
Experience handmade quality with our Made to Order program
Made to Order
How it Works
1Claim a style
Choose your preferred style from our collection and follow the checkout steps from the product page.
If you choose to Customize a style, price adjustments (credit or additional charges) may apply based on materials selected and/or wide or narrow fits.
2Arrange a fitting
Virtual Experience: Our staff will contact you to arrange delivery of fit samples and/or selected swatches to your home.
In Store Experience: Our staff will contact you to schedule a visit at Esquivel House in Downtown Los Angeles for an in-person fitting.

It's important to try the style on to confirm sizing, as each person's preference for the fit of their shoes may vary.
3Add your unique effects
Upon confirming the basics such as material and colors, you'll have the option to personalize your shoes with monograms, date plaques or graphic tattoos. To satisfy more practical needs, you may ask us to add a rubber topper to your shoes for better stability and traction in wet weather.

Note: Additional charges may apply.
4Confirm your order, then sit tight
Once your order details have been confirmed, we'll provide an estimate for how long your Made to Order shoes will take to complete. Lead times can vary, but we aim to have your hand-crafted shoes ready to ship in six to eight weeks.
We know there are a lot of options to choose from! Feel free to contact us with any questions!
Made to Order FAQs
How long will it be before I receive my Made to Order shoes?

Generally speaking, the handmade shoe-making process takes time. No element of your made-to-order shoe has been mass-produced, and there are countless steps the cobblers must follow to complete these one-of-a-kind shoes.

Once your order has been received, we'll confirm how long it will take to complete. We aim to have your hand-crafted shoes ready to ship in six to eight weeks. This estimate doesn't include shipping time – this factor depends on the preferred shipping method that you choose at checkout. For orders placed via ShopRunner, their standard 2-day shipping will apply after the order is ready to ship. Should you live locally, you may also schedule a time to pick them up from our Esquivel House showroom.

Enjoy complimentary standard shipping on all US orders. Other shipping conditions may apply for certain products and locations. All shipments from Esquivel are subject to our carriers' terms and conditions. Delivery times will vary for custom products.
How can I ensure the right size?

In the first stages of the made-to-order process, a consultant will be instrumental in helping you to determine your best size for the shoe in question. We'll likely ask you to try on your standard size as well as a half-size up or down, depending on how the shoe runs and how you like it to fit. From there you'll confirm your perfect size.

You may find that the best size for each of your feet is different. If this is the case, ask about ordering a different size for each foot. Fit samples are standard width and length, but wide and narrow fit are also available upon request.
Why do my shoes feel different on my feet than the fit sample I chose?

Your final pair may feel a bit different: softer or a bit more rigid than the fit samples you tried on. This could be due to the type of leather or different sole you ended up choosing. Rest assured, the size will be the same. Also, after a few times of wearing, your pair will start breaking in and molding to your feet.
What happens if I don't like my shoes when they arrive?

Since made-to-order shoes are customized for you, they're ineligible for return or exchange. This is why it's so important to be sure of your selections upon finalizing your order with our team.
Every pair of George Esquivel Made to Order Shoes are hand-made in our Los Angeles atelier
HAND CUT
Our craftsmen and women hand-cut every piece to perfection, sometimes requiring over one and a half hours of cutting, perforating, and then sew them together to create a full pair.
HAND LAST
Each pair is patiently hand-lasted, or massaged, onto the mold of the shoe with some leathers requiring up to ten days to properly dry and take final shape. The "last" is the giver of shape, silhouette, and soul.
HAND FINISHED
The silhouettes are finally painstakingly hand-finished to create a one-of-a-kind pair of shoes. Some of our styles require over 150 steps to complete -- machine assembly is a foreign concept to us.